In today's high-tech world, data is like the oil field of 21st Century, and Data Science is the extraction infrastructure set-up that makes the data useful for revolutionizing the world. Without the occurrence of a mammoth volume of data, the self-regulating systems cannot be created. So, Data Science in 2020 would be all about mining huge amounts of data for large corporates and companies for their Business Analytics.
In other words, Data Science is a comprehensive study of data collected by numerous organizations for their business resolutions. It involves the analysis of the abstract data over the net through various data analysis tools.
To understand the crux of Data Science, here's the Data Science life cycle: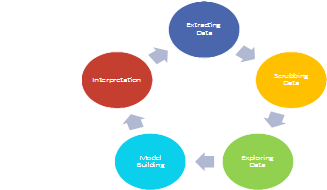 An increase in the demand for data scientists
If you are thinking of becoming a Data Scientist, the stance is optimistic. Glassdoor ranks data scientist as the best job in the US in 2019, earning a median salary of $109,000. It is one of the scorching careers at the moment and the demand for data scientists is set to increase.
With an exponential surge in data comes a greater demand for data scientists. It is estimated that the entire digital universe will reach an overwhelming 42 zettabytes by 2020. To put 42 zettabytes into perspective, it means there will be 40 times more bytes in Internet than there are stars in our universe. That is something very difficult to measure.
Presently, there is a dearth of data scientists to adequately cope with the predicted explosion in data. Maryville University says that the demand for data science experts already overshadows the supply. By 2020-2021 it is projected that there will be additional 2.7 million data science and analysis jobs available in the US alone.
Data Science: Future Prospects
The growing demand for data scientists will give you an idea about the scope of Data Science across the globe. Data Scientists demand can be quantified as per below industries and areas.
1. Manufacturing areas to improve productivity, processes and predict the trends:
Performance, quality assurance, and defect tracking
Predictive and conditional maintenance
Demand and throughput forecasting
2. E-commerce
Supply chain and supplier relations
Global market pricing
Automation and the design of new facilities
New processes and materials for product development and production techniques
Sustainability and greater energy efficiency
Banking & Finance
Healthcare
Transportation
Media and Communication
Data Science: Job Roles
Let us take a sneak peek into some of the Data Science job roles in demand. Data Science jobs for freshers may include:
Big Data Engineer
Machine Learning Engineer
Data Engineer/Data Architect.
Data Scientist.
Statistician.
Data Analysts.
Business Analysts
Top Recruiters
Below is the list of some renowned companies that recruit data scientists.
Numerator
Cloudera
Splunk
SPINS
Alteryx
Civis Analytics
Sisense
Oracle
Looker
Teradata
Amazon
LinkedIn
IBM
Walmart Labs
Data science can add worth to any business that can use their data capably. From analyzing statistical data to managing large data and recruiting skilled employees, to helping senior staff or management, making a better-informed decision, data science is valuable to any company in any industry which offers optimized solutions for the ongoing data challenges encountered on daily basis. It gives you an insight to the most trending technologies, the top companies that are hiring, the skills required to fast-track your career in the field of Data Science and also offers you a tailored roadmap for becoming a resourceful Data Science expert.