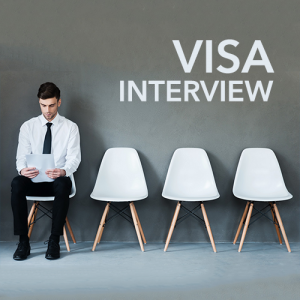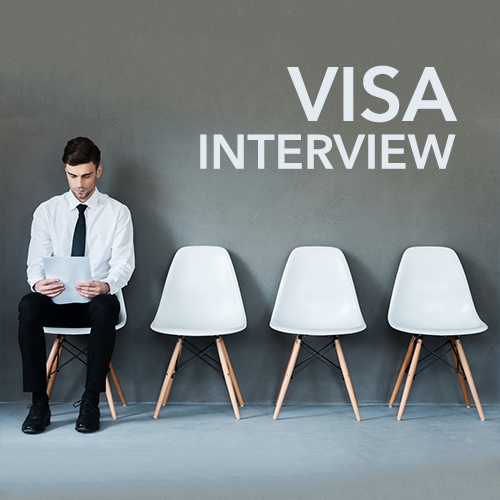 So finally all the concentration and efforts come and take a hault on that day of your life- The deciding day! Yes, you guessed it correct- the most significant visa interview.
So to start with the process of your dream of seeking admission and landing yourself in your target University spans over a period of roughly 365 days. And then you have your appointment set for the interview after all the hardwork and dedication that you have invested so far. While you embrace yourself and set yourself to crack this interview keeping some points in mind will definitely be beneficial for you. This is considered to be the one of the biggest challenges that students face during the application process is preparing for the visa interview.
#1 Maintaining a calm, composed and a confident behavior
Nobody else but you will be the best one to showcase what you are and what you are capable of doing. You have received a token for being an able candidate for the course abroad; you are just one step away from your destination. All that you have to do through this process is maintain calmness in your body language including every possible gesture and the tone that you speak in.
Also, maintaining a confident attitude does not mean that you can be rude to the interviewer; in turn you should be polite at same time convey what is meant be conveyed through a polite voice.
#2  Prepare yourself for all the possible questions
So as you initiate your preparation for the interview, all these pointers are intertwined and all of these go hand in hand. To start with you should ideally be knowing everything about the course that you are going for, the subjects offered, the kind of program, projects- basically everything!
#3 Give extremely crisp and accurate answers
The visa officer has seen more than 100 students like you; The officer is very well able to measure the truthfulness of the applicant. It is of utmost importance that before you think carefully and then give a response.
The visa officers have to deal with a numerous applications and hence, they are usually hard-pressed for time. So keep your answers to the visa officer's questions crisp, short and to the point.
#4 Be optimistic
Being optimistic has not only changed the world for better but has also helped one to have a good scope in any possible area. Having said that, nothing beats positivity and therefore, carrying and maintaining a positive approach throughout the interview will surely be an added advantage. Even if the visa result is not in your favor, do not be disheartened while you ask for the reason of rejection. Maintaining a calm tone at this time is very important.
# 5 Don't forget to carry necessary documents
Make sure that you are ready with all the documents that you might be asked for at the time of the interview.
Carry all these documents without fail.
These documents majorly includes appointment letter, visa fee receipt, photograph, passport, I20 and letter of admission, financial documents, degree transcripts, test scores of GRE/TOEFL/IELTS/GMAT score sheets, work experience letter if applicable
Arrange all of these documents in a correct order in a harmonium file.
Also do not forget to carry all the documents supporting your finances at the time if the interview
The visa officer might or might not ask for the financial documents. To ensure that you clear the visa interview, you may be asked to provide certain financial documents to prove that you have the sufficient financial resources to fund your studies.
You may also need to prove that you have the required financial resources to pay for tuition fees, living expenses, accommodation etc.
If your parents are funding your education, then you will have to submit their financial statement which includes their original bank records and income tax returns of the past three years along with their original fixed deposit receipts.
If at all you have received a scholarship, then you will have to provide a confirmation letter and incase if you have taken a loan then you will have to provide official documents to prove that the loan has been approved.
#6 Prepare yourself thoroughly with your career, life and other goals
The visa officer might as well ask you to share your future plans. Do not hesitate while answering to this question. Keep yourself well prepared for this answer well in advance and make sure you make your clearly state your response.
#7 Do not confuse yourself or them with your ultimate plan of going abroad
You should without hesitating say that the whole purpose of your move to abroad is to seek a global degree and that you do not want to eventually be an immigrant. You should convey it efficiently and state clearly that you will be returning back to the home country after the course completion.
#8 Last but surely not the least GREET
Regardless of how the visa officer is, it is your responsibility to start the interview with the appropriate greetings. It will not only create a good impression but will also boost up your confidence level at the time of the interview.
I am certain that these tips will be beneficial for you while you prepare for the interview. Make sure that you incorporate all of these for the best results.
Ms. Sai Dadarkar
Counselor & Trainer
Imperial Overseas Educational Consultants