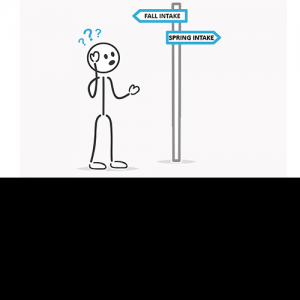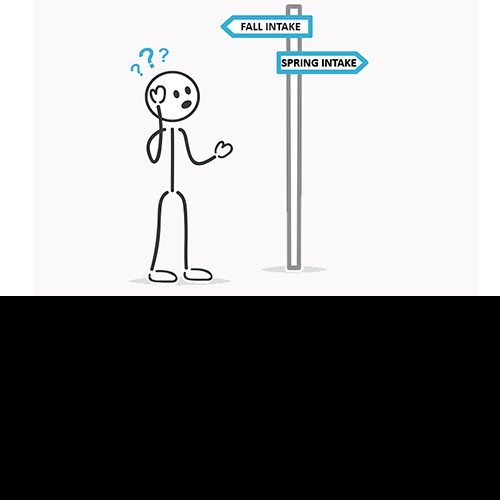 USA being one of the most dominant educational hubs, there still is a question in a student's mind -Whether to go for a Fall intake or a Spring intake?
I have tried putting on some light on both these intakes. While you have decided the country, it is now crucial for you to decide which intake will be best suited for you. Selection of an intake is not limited to the climatic variations but with your study requirements.
Which of the most popular intakes- FALL or SPRING should you go for?
Most US universities have multiple intakes in a year, when they accept students for programs at their Universities. The most prominent of all the intakes is a FALL intake.
Before going on to which one is a better option, let us first understand factors of both of these intakes.
FALL classes generally begin during late August and ends in December or early January. While a SPRING semester starts in January and ends in early May.
Every year these US universities are flooded with thousands of applications against the typical size of an US University to accommodate around 10,000 to 60,000 students a year. Also, not all students get a chance to attend a course as per their will. Many students also tend to miss out on deadlines due to prior work, educational or personal commitments.
Having said that, which one is the most feasible option: FALL or SPRING, let us find out!
#1 UNIVERSITIES
One of the most vital factors that one has to consider while planning their studies abroad is the University that one has to aim for.  Most Universities in US have majorly Fall intake while only few Universities also have a Spring intake.  With more than 2000 Universities in US, it is quite tedious and difficult to figure out the availability of multiple intakes in a particular University.
So, if in case you are wanting to go for a Spring intake, it is best advised for you to thoroughly research on varied aspects of the University. Once you are done finalizing a list of Universities, you should then be ready with GRE/GMAT and IELTS/TOEFL scores and the action plan.
# ON-CAMPUS WORK OPPORTUNITIES
A students gets an opportunity to work on campus as a Teaching Assistantship, Research Assistantship or a Graduate Assistantship. Fall semesters start in mid August or early September, and that is when an academic year of US technically begins with a high frequency of in campus internships for students.
Generally, the professors begin their research work during this time and they intentionally like to undertake students whom they are aware of. These professors are quite skeptical in choosing a new student for their projects.  Having said that, there are opportunities available for Spring students as well but the level of competition for these students rises.
# FUNDING AND FINANCIAL AID
While funding and financial aid will be very important as far as studying in at an international destination is concerned. Funding options are available in Spring as well as FALL intakes. Commonly, financial assistance is provided to a student all round the year. But the number of opportunities for a FALL student is high as that of a SPRING student.
An admission officer will consider and evaluate a student's over all profile while granting financial aid.
# INTERNSHIP
Like we have seen in movies, I can surely work in a Cafeteria! Wouldn't that be great?
Well, No! Universities require students to be eligible for an off campus internship only after completion of a semester or a 9 months period. So, students belonging to SPRING intake will not be able to avail an opportunity of an off campus internship initially.
# VISA
With a lot of tittle-tattle going around coupled with a never ending speculation. Let me clarify it for you. Many people claim that the Visa process and chances of getting an approval are much higher for Fall aspirants than that of a Spring aspirant. Regardless of when you decide to fly, a student getting an approved visa solely depends on the profile, university profile and your performance during an interview.
So having clarified most of the points that would jump into an aspirant's mind, the decision of you going for a FALL or a SPRING intake is completely dependent on you!