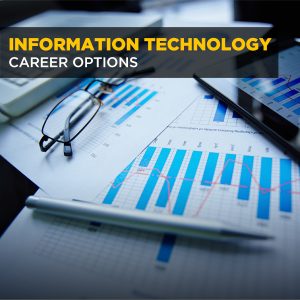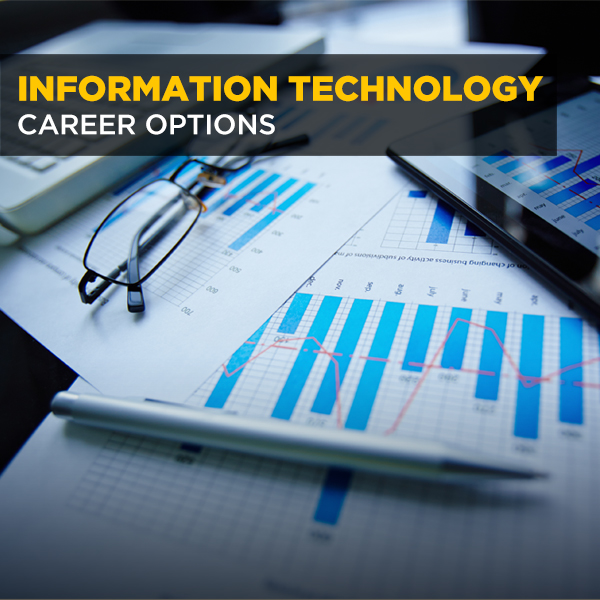 Information Technology has become one of the major role players in the world today. With the current progression towards automation, all of us have been a witness to the change in the world. Information technology is a part of almost all the fields today; some of which include Data management, Digital marketing, E-commerce, etc.
Information Technology can be defined as a subdivision of engineering that focuses on the study of utilization of computer, technology and telecommunication to control, gather, store and circulate data and information.
Some of the major career options under the domain of Information Technology are as follows:
Business Analytics
Business Analytics is a specialization which is a blend of business and technology related subjects.
It can be defined as a research discipline that works for identifying business needs and determining solutions for various business related problems.
These solutions range from a software-system development, process improvement, organizational change and strategic planning along with policy development.
Cloud Computing
Cloud computing is one of the fastest growing domains under information technology.
It involves usages of various services like software development, servers, storage, platforms and software over internet which is called "the cloud".
It focuses on the concepts of Cloud architecture, delivery models, migration to the Cloud, as well as security and privacy issues.
Mobile Application development
With an ever-increasing need for mobile applications, mobile programming is also one of the opted specialization courses under information technology.
Mobile application development is defined as the process that involves development of mobile devices like personal digital assistants, enterprise assistants, etc.
Computer Networking
Computer Networking is a branch of information technology which aims to analyse and understand communication process between various computing devices that are linked together for exchanging data.
IT Management
IT management is a concentration of information technology engineering. It is the process that would oversee activities related to operations of information technology and sources within an organization.
It enables us to ensure that the technology and human resources involved within the project are efficiently and effectively utilized.
Network Security
Network security is a stream of information technology which is designed to protect the integrity along with usability of network and the data.
It is responsible for managing accesses to the network with a goal of covering range of threats.
Software Design and Development
Software design is the process through whicha specification is created for a software artefact so as to accomplish a goal using primitive components and constraints.
In contrast, software development can be defined as a process by which a software is developed using a specific programming language. It includes developing a series of code which would proffer with the functionality of a developed software.
Software development may also be called application development and software design.
Systems Analysis
System analysis can be defined as the process of supervising systems for development as well as troubleshooting. It is used when a computer system needs analysis as per its makeup and design.
This is a never-ending list and the field drives in depth in varied tangents, but these are just basic fields that one may wish to consider.