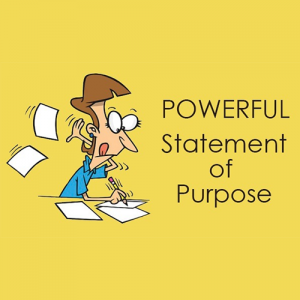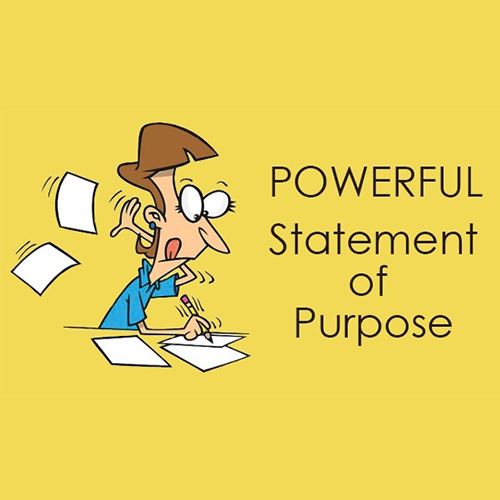 Remember the good old school days? The times when our English teacher asked us to write an Essay? This is the moment for you to portray your writing skills.
Statement of Purpose is the most important document out of others while making applications to the Universities.  As the name implies, it is a written document which encompasses the purpose – why you wish to pursue a particular course, how it would help in proliferating your career and what is a driving force of yours in achieving the aimed goal.
There are many factors and aspects that this document should contain. You can see this document as a script of your academic, co curricular and extra curricular experiences in a way that the Admission Committee would be able to understand your personality and your profile.
So the target for you is to write an essay which is captivating, real as well as covers all the possible aspects that are important for the application's point of view. An ideal Statement of Purpose can be as long as 700-1000 words.
Keep well in mind, a SoP is purely individualistic and has to be ideally unique. A model SoP should incorporate following points:
Introduction of yourself
What have you done so far
What you intend to do in near future
Academic records and Achievements
Projects Undertaken
Internships & Work Experience
Co curricular & Extra curricular achievements
How you would be an add on to the University
Why this University
What makes you a potential student for that University
As the Statement of Purpose is also correctly called as a Personal Statement it should also have a personal touch. If it is ghostwritten by somebody else on your behalf it will surely not have that personal touch. It is highly suggested for a student to plan in advance and write a document on their own.
As majority of students would think of using all of the GRE vocabulary in the SoP, let me tell you it is absolutely not needed to do so. A Sop should be clear, easy to understand, precise and as truthful as possible.
Note: Plagiarism is considered as a major crime in USA.
So how a SoP should be structured?
INTRODUCTION
As it is rightly said, if the start of a movie is interesting then the entire movie interests you. So is the case with this document.
Try keeping it simple yet appealing. A key point to remember is that the first paragraph should be such that it should make the reader interested in it.
At times, starting your essay in an unconventional way make work!
ACADEMICS
This is one of major paragraphs of your essay. It is essential for an essay to be precise and to the point while it is also important to cover and write every aspect of your academics and related achievements.
Highlighting subjects' interest and your performance in same which is inline to your Masters is important.
PROJECTS
As academics demonstrate a part of your theoretical knowledge, projects showcase your technical ability. Along with it, also including information about technical participation or paper published will be helpful.
While explaining it, make sure that you highlight important technical skill set that you possess.
INTERNSHIP AND WORK EXPERIENCE
Internship and work experience will surely be an added advantage to your profile. But putting it correctly and inscribing your responsibilities, experience gained, expertise and achievements is essential.
EXTRA CURRICULAR
Your participation in activities other than academics is an indicator of your personality. It will not only portray your versatility but will also show your interpersonal and soft skills. Mentioning your achievements, participation and prizes won will be a cherry on the cake.
WHY THIS UNIVERSITY
This is the place for you to justify why you want to go to that University.
CONCLUSION
It is vital for you to give your best as this is a point where you will get a fair chance to showcase your profile!
Having explained basics about a Statement of Purpose is a paramount of your successful application.