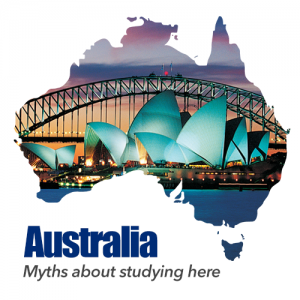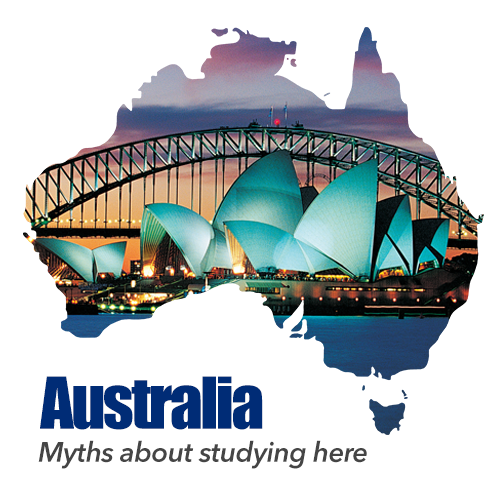 With the constant urge to study overseas for better opportunities, are you considering Australia, but are unsure what to expect? Want to learn more but don't know where to start?
An Australian education equips people with knowledge, skills and networks that will last a lifetime – and gives every student that studies with them the foundation they need for non-exhaustive future opportunities. Australia is a beautiful country, full of unique and diverse experiences to enrich any degree and lifestyle.With all advantages on one side, there also are certain myths amongst the students about studying in Australia.
Following are few of the top rated myths:
You need to be rich if you wish to study in Australia
Like traveling, studying abroad costs money, but you might be surprised as to how much more economical it is to study abroad than it is to travel. While traveling, one could spend upwards of a few thousand dollars for a week or two, but with studying, your expenses are much lower.Although the cost will vary depending upon factors like the university, location, and duration of the program, it is important to select universities that suit your budget.
While calculating your budget, also think about the return on investment
If you plan your finances well, your education will not seem like a burden. In addition, you can take up on-campus jobs, teaching assistance, research assistance, or other work to supplement your income. The icing here is that by working part time, you also gain valuable work experience. After graduating, you get a chance to work with some global companies. In most cases, students manage to repay their education loans in the first few years of joining their new job.
Safety is undoubtedly important consideration to make when traveling abroad, whether for study or leisure, so we understand that you may have reservations about living in a foreign country. A bit of research about the area and the city that you are going to will be at any point in time helpful and contact with people who live there or have lived there in the past can direct you the best ways. If there are certain parts of the city that need to be avoided, do it!
Difficulty in finding scholarships
There are two kinds of scholarships available for international students – Merit based and Need based. You can avail scholarships sponsored by few global, national, regional organizations, and financial institutions. One of the most common scholarships awarded by universities is in the form of full or partial waiver on tuition fees for outstanding international students. For more information you may check here.
Loneliness is going to haunt you
This entirely depends on the choice of an individual. While the world is your own stage, and you have to choose what you want to do. Besides restricted set of interactions, here is an opportunity to advance your social skills, broaden your social network, make new acquaintances and friends.
Universities abroad recognize the need to make their international students feel at home. This experience will be the cornerstone of your education, by influencing your personality, and instilling in you a greater understanding of people outside your boundaries.
Yes, it is surely going to be a lifetime experience but, for the most part, students are a lot more concerned about their studies and work load as studying abroad isn't just a holiday. However, we still recommend that all students enjoy the city they choose to live in while they are studying and to not restrict themselves to their dorm room.Australia is a global education powerhouse with fantastic long-term opportunities. Now is the time that you decide and set your goals wisely.