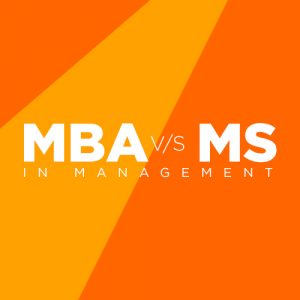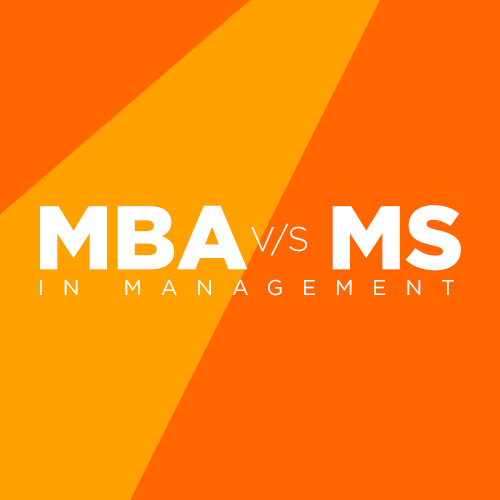 Further away from our previous traditions to merely hold a bachelor's degree for a successful career, there is a surge in demand for students with post-graduate education, making it an obvious choice for employers, in an already competitive rat-race. Additionally,beyond just as a means to gain employment, the thirst for knowledge has shown to drive them towards a Master's degree.A postgraduate degree helps students gain an overview of an entire business domain or management of that career choice or an even further in-depth knowledge of a particular technical area, specifically in a specialized area. Most students therefore on completion of a bachelor's degree often prefer to study an MBA or an MS degree, with MS degrees varying from a technical course to a management or business oriented course as well.
Let's begin with MS, Master of Science,a course chosen normally by students or professionals who are technically inclined with little to moderate managerial roles to play in the future. The reason behind opting this course is to gain an additional skill set or in-depth knowledge and deep-dive into research oriented role. However, there are various MS courses for Business principles like – Marketing, HR, Management, International Business, etc. Student may choose to pick such courses so as to be able to gain proficiency in the domain under that business course. An entrance exam like GRE or GMAT is required to get into most universities in USA and some top universities around the world. This course is generally opted by recent graduates or students with little work experience in various disciplines, whether Business or Technical.
On the other hand, an MBA degree i.e. Master of Business Administration,is open strictly for professionals with a minimum 3 years of professional experience in the related field. The reason behind opting this course is to advance within their career domain to managerial positions. Entrance exams like GMAT are required to get into some of the best universities around the world. Also the coursework is highly practical, discussing some of the problems faced in managing particular areas of business and the solutions applied,therefore work experience becomes of high priority. MBA degree is broad in spectrum and valuable in all the industries, the course includes a basic knowledge in all the areas of business and management, and provides for a specialization in any of the business arenas.
Students who are experiencing business environment for the first time are more suited for MS while students with an inclination towards entrepreneurship or senior management experience are more suited for an MBA. Both the degrees are recognised worldwide and can definitely lead to highly successful careers giving ample job satisfaction.
Financially speaking, the MBA is more expensive than an MS degree, however, the return on investment is definitely higher on the former than the latter, therefore is also preferred. The average age of the MBA class in most universities outside of India is 30-35 years and higher in some cases as well. It is important to note that there is no age bar for education, and MBA is definitely a degree that is sure to go a long way than most other courses when it comes to age and the skills it imparts. We have also seen students at the age of 60 years undertaking an MBA, at the level of a CXO.
Although an MBA has high brand value, it should not be mistaken to replace work experience when it comes to employment. Therefore MBA degrees asking for little or no work experience must be taken cautiously as it does not guarantee a managerial position, merely understanding and knowledge of the business arena. Choose wisely!