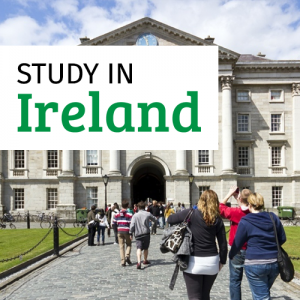 So are you the one looking out for study options with European base blended with the most mesmerizing scenic beauty. Along with being one such country with varied study options, if so then Ireland can surely be the most top rated choice for you.With the world moving more towards technological oriented work process, Ireland provides to be a place to get a dynamic learning experience.
Geographically, Ireland is located on the west coast of Europe and is a member of the European Union. Ireland is a popular destination for international students and offers a high level of education that is recognized throughout the world, combining a fantastic higher education experience with historical cities and a unique heritage.
Ireland is a neighbor to one of the wealthiest countries across the globe-United Kingdom. Like United Kingdom, Ireland accepts students with 15 years of education for Masters' studies. It's a young and dynamic country and has over 200,000 international students.
If you were to go about some of the attributes of why one must consider Ireland to be their choice, I have listed a few below:
Education Quality
Ireland provides you with one of the best study standards. Not only that but it also follows the prestigious European education system.
These education institutions proffers wide range of courses and are specially known for their teaching and research
Medium of Teaching
So if you are not very keen on learning and adapting to a new language altogether, Ireland happens to be your choice
All courses in Ireland are taught in English. Since it is an English speaking country, it is majorly known for technological advancements and research work.
Top notch Universities
Ireland is also a home to some of the top notch universities across the globe.
Trinity College Dublin, University College Dublin and National University of Ireland, Galway are some of those universities.
Scholarships
Along with being one of the best in its domain, Ireland also offers deserving students with scholarships. Some of which are as follows:
NUI Galway international student scholarship
University College Dublin scholarship
Trinity College Dublin scholarship
Diverse Culture and Lifestyle
So this is an all in one place, it is not only best in providing the students with education but is also known for its innate beauty, rich music and food. Along with that it is also famous for its world class hospitality.
Besides these fundamental attributes, there are several other factors that a student can consider before selecting their study destination. But if you are looking out for one stop destination, Ireland must be the first in your list.
Ms. Sai Dadarkar
Counselor & Trainer
Imperial Overseas Educational Consultants