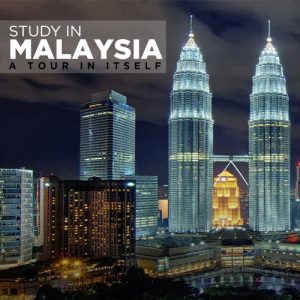 Tourism to Malaysia, which stretches across the Malay Peninsula in Southeast Asia and the northern portion of Borneo, has increased rapidly and steadily in recent years. Moreover, Malaysia is an increasingly popular place to get tertiary education with more than 40,000 international students from over 100 countries studying in Malaysia. It is the center of academic and higher education excellence in the region.
Malaysia can be indeed thought of as a place gifted with beautiful beaches, fascinating history and cultural heritage, vibrant metropolis, amazing wildlife, last but not the least, the food. It currently has more than 80,000 international students from more than 100 countries. International students enjoy a safe and comfortable living environment with 21st century amenities, good healthcare and medical facilities, excellent educational institutions, and world-class recreational and sports facilities. Malaysia offers international students many options of quality education programmes at an affordable cost.
Some of the reasons why Malaysia can be thought of an option to consider are as follow:
Improved quality of university
The university education system in Malaysia may not be as good as the other Asian destinations, such as Hong Kong or Singapore. Nonetheless, it is a fact that education institutions here are rapidly improving into places capable of imparting world-class education. Some of the universities have broken into the top 200 lists of universities in the world. Some universities in Malaysia are already offering excellent courses on par with the best in the world. This trend is growing and improving.
Low cost                                                            
In spite of these remarkable developments in the field of higher education, the university costs remain low. At the same time, it becomes very easy for the international students to study at some of the best universities in the world at a reduced cost.
An undergraduate course from the main campus of the UK University will cost approximately £ 13,470. Whereas, the same course from the Malaysia campus will cost less than £ 7,000 on an average. Most importantly, there is no difference between the two courses whatsoever. The content of the course will also be the same. The exact same evaluation criteria and marking schemes is applied to both campuses. The only significant difference is the cost. Moreover, living expenses and other costs is also lower in Malaysia when compared to other countries.
Chance to earn a degree from countries like US, UK, Australia
In Malaysia, international and local students are able to get foreign degree qualifications from universities in Australia, US, UK, France, Canada, etc. through twinning and 3+0 degrees, as well as foreign university campuses that are already setup in Malaysia.
Chance to study at one of the best tourist destinations
If you want to top off your study in Malaysia with some memorable moments, consider visiting the famous tourist spots in the country. It doesn't matter whether you are a battled hardened traveler or an amateur trying to learn the ropes of travelling, as you will have your hand full –stunning beaches, uniquely designed highland resorts, theme parks, nature and adventure tours, world-heritage sites,  Malaysia has it all. While studying in Malaysia, you will also get to experience some colonial charm at Penang. Regarded as the 'gateway to Asia,' Malaysia will help you explore the many facets of your personality and improve them.
Multi cultural diversity
Malaysia is completely multicultural in nature with its citizens hailing from different ethnicities. Around half of the population is native Malay while the rest of them are Chinese and Indians. Malay may be the official language of Malaysia but English is widely recognized and spoken in the country. This multicultural nature of the country makes it easier for the international students to adjust to a new life in Malaysia. Students can enrich themselves with not only excellent education but also the experiences of various cultures and facets of the country.
Ms. Sai Dadarkar
Counselor & Trainer
Imperial Overseas Educational Consultants