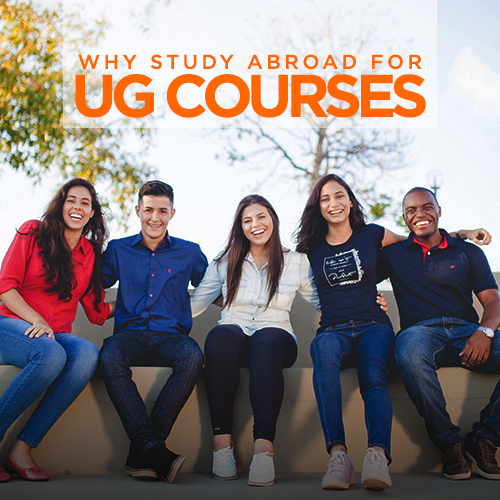 Who doesn't wish to graduate from world's prestigious and developed countries and universities? There are range of personal benefits of studying abroad, and ways to grow both professionally and personally.
In fact, choosing to study abroad can be one of the most enriching, fulfilling, interesting and educationally stimulating experiences of your entire life. Considering an option to get your Bachelors degree from a country other than your home country may seem scary at first, but in the long run, it will not only help you become a better person, but can also help you stand out in a crowded and increasingly globalized job market.
While the common intention to study abroad has been a trend for higher education, there is a generous fraction of students and parents considering application for their undergraduate education overseas as well. But barring the concern of a worried parent of a 17-18 year old, is it a feasible option to travel overseas for bachelor's study?
Studying for earlier degrees in a destination other than India, can provide a new array of opportunities, courses and avenues we may not know exist. Let's explore these.
Great Foundation for a Career
Education overseas in universities is more practice oriented, the curriculum is based on the requirements of industries and the employment opportunities available. The education is an entire experience by itself, beyond the classroom, they provide an exposure with internships or regular interactions with industry experts. The faculty teaching there also have held work experience in the field for a long duration making their experience a prized possession. Students therefore start realising their career interests right at the start and are therefore able to make a decision even better.
Exposure to myriad of global cultures
Getting a bachelor degree abroad full time is no easy task. It means uprooting yourself from your home and trying to make it in a country that is not your own. As an international student, you will have to learn how to do normal things you may have taken for granted back home, such as how to set up a bank account, how to pay bills, or how to go grocery shopping. Additionally, if you are interested in visiting a country whose first language isn't English, you will have to get acquainted with their local language.
One of the most obvious reasons to study abroad is to meet people from different places. Holding a network of international professionals shall prove to be a positive when these students then start their careers or even when they work with multinational companies or start companies on their own.
Not only will living and studying abroad enrich your understanding of different people and customs, you will also gain a broader context for understanding today's most pressing global issues. From your peers to your professors, learning in an international environment will challenge your assumptions and introduce you to new ways of thinking.
Enhance your language skills
For many international students, this is a chance to develop language skills, either through studying in a second language or by practicing the language spoken locally. A growing number of courses around the world are taught in English, particularly at graduate level, and of course proficiency in English has many applications across all kinds of careers. But indeed any additional language skills are an asset. Moreover, language skills obtained while studying abroad will always be beneficial to the student and their home country in both the short as well as long-term.
Professional as well as Personal growth
Studying abroad proffers you with an opportunity to travel around the world and that in itself helps to become a whole new person. As you get a degree abroad, you are allowing yourself to fit in a foreign environment, outside of your comfort zone. Besides, you will also learn to be adaptable in terms of diverse culture. These cross-cultural communication skills are essential if you intend to work in the international job market.
Studying overseas is the most life-transforming decision that a student can take. So this is the time to chase your dreams.
 Ms. Sai Dadarkar
Counselor & Trainer
Imperial Overseas Educational Consultants