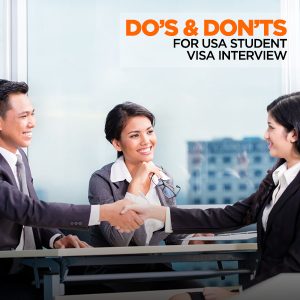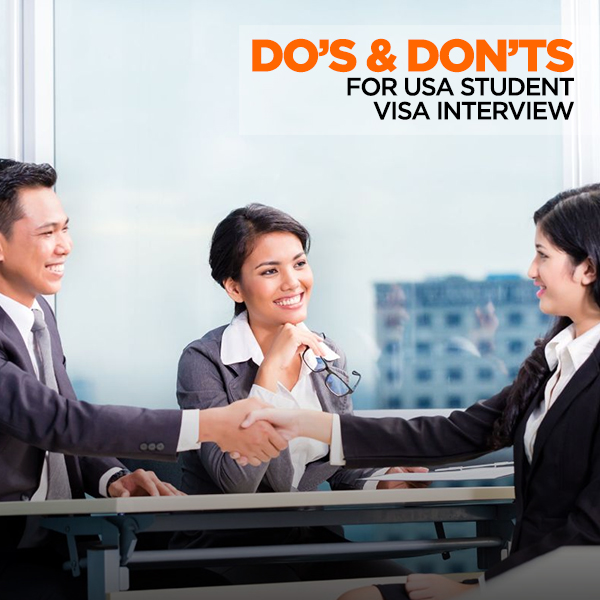 All your preparation, hard-work, aspirations everything comes down to a single point, a single moment i.e. the Visa Interview. Students have had mixed experiences and have termed this interview to be a bit stressful. Having said that, it is extremely crucial for a student to prepare for the interview well in advance.
Along with a good amount of preparation, we have some do's and don'ts which you may consider during your visa interview.
Do not forget to carry your documents
Following is the list of documents that one has to carry on the day of visa
– Passport valid for travel to the United States
– DS-160 confirmation, SEVIS Receipt, CGI Federal Payment Receipt
– I-20
-Admission acceptance letter
Besides the above stated documents, one has to also carry the following list of documents;
– Transcripts, degrees, or certificates
– Standardized test scores
– Financial documents(source of income and proof of your finances)
Make sure that you are well versed with your visa application form details
One may get easily flustered or forgetful during the stressful moment of the interview, so taking some time to review your application beforehand will help you to stay on track when you answer questions.
Practice will make you attain perfection
You can expect your interview to cover questions about your study plans, university of choice, academic capability, personal finances, and post-graduate plans. Ask a friend or relative to do a practice interview with potential questions. It will help you to be more relaxed and confident on the big day.
It's recommended that you clarify doubts and /or queries that you have related to your course
Be prepared to answer specific questions about your program of study. If you have any doubts, contact your admissions department before you go in for your interview.
Be truthful
One of the top reasons for F1 visa rejection is presenting untrue information.
Maintain a calm posture
A great way to stay calm and centered is to take a deep breath each time you are about to start speaking. Deep, conscious breaths will keep you centered and grounded throughout the process.
Do not stress out
Find a way to stay calm and centered and the whole process will be a lot easier! Also, prepare all your documents carefully to avoid last minute scrambling, and be sure to review all of your information.
Do not follow internet trends
 As most people tend to read and follow a lot of interview experiences online; there is no harm in but it is good to not follow everything and anything given on the internet.